Insurance Commissioner Jim Donelon is concerned that too few Louisiana homeowners are taking advantage of the chance to ditch the state's insurer of last resort, which is still carrying an unusually large number of policies after a raft of private insurers doing business in the state failed.
On Monday, he ordered insurance agents to alert any clients who are insured by Louisiana Citizens Property Insurance Corp. when they have the chance to jump ship. More than 10,000 policyholders may do so until Friday but haven't taken the plunge.
Donelon,?who is in his final four months in office,?is unhappy about it.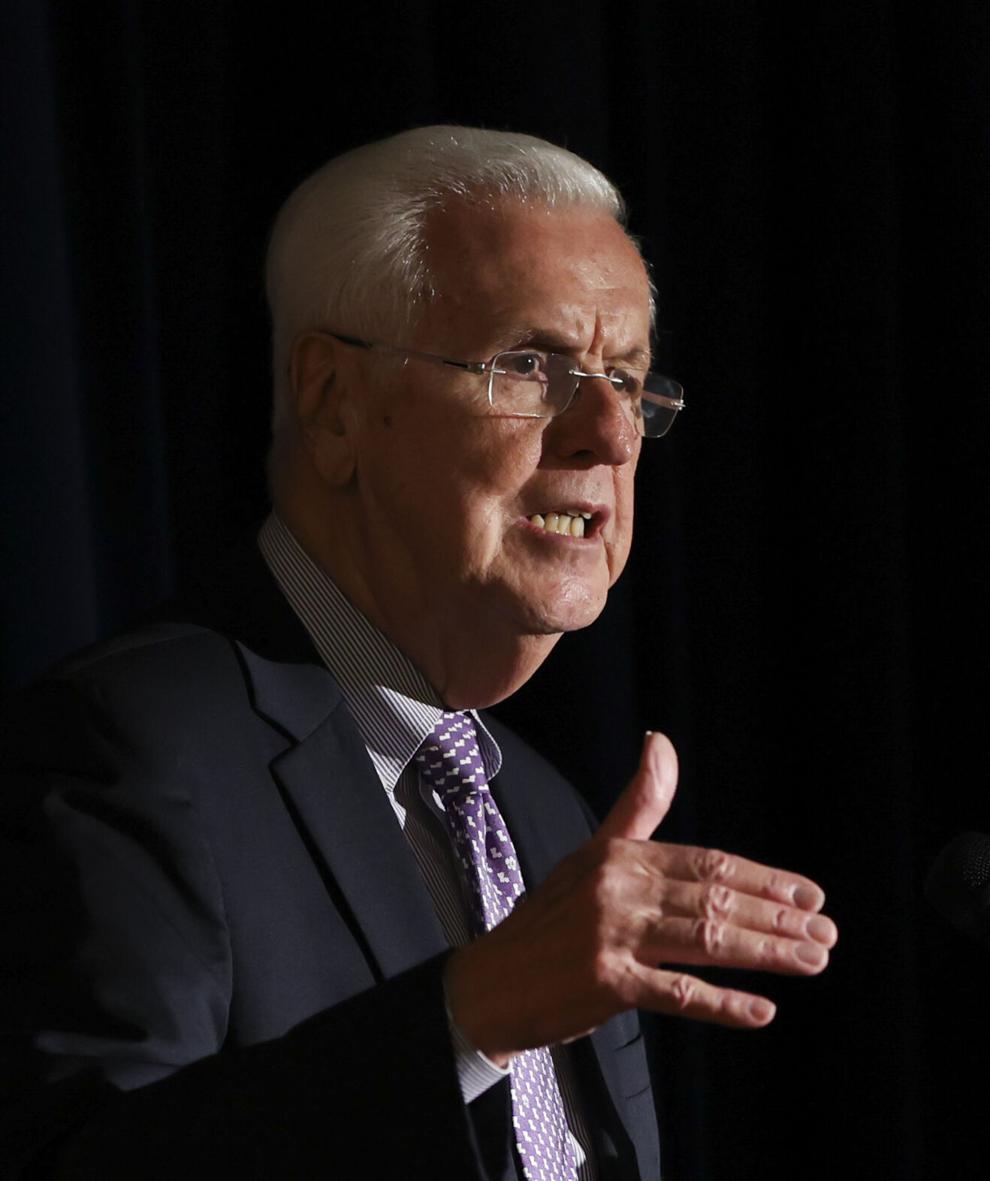 Citizens is carrying more than 140,000 policies, almost four times the number it held when Louisiana's insurance crisis erupted in the wake of 2021's Hurricane Ida. It's the largest number of policies that Citizens has held since the era immediately after 2005's Hurricane Katrina, when it reached a high-water mark of about 175,000 policies.
The current tally gives the state-chartered corporation a market share of more than 4%, which Citizens and Donelon are desperate to shrink.
The agency's policies are heavily concentrated in coastal Louisiana; more than half belong to homeowners in Jefferson, Orleans or St. Tammany parishes.
The state's aim is to keep Citizens' rolls as small as possible by moving homeowners into the hands of private companies. To that end, Citizens policies are set by law at 10% above market rates.?
Citizens' policyholders will also get priority treatment in a new program that launches Oct. 2, in which the state is offering $10,000 grants to homeowners to strengthen their roofs. The thinking is that those with "fortified" roofs will be attractive to private insurers and thus leave Citizens. But in its first year, the program will help only 3,000 homeowners, half of them Citizens policyholders.
Slow to move
In a process that the state calls "depopulation," private insurers may apply to take over Citizens policies in bulk. A company called Safepoint Insurance Co. has been approved to take over two batches of policies, about 40,000 in all.
But before a policy is shifted, the customer's agent must approve it, and?Donelon is concerned that the agents aren't pushing Safepoint.
In the first batch, only 5,000 such switches were authorized by agents. So far in the second round, which ends Sept. 22, just 8,000 customers have switched. Meanwhile, Citizens' rolls have continued to swell.
In addition to the new directive to agents, Donelon's office is sending postcards to alert all eligible Citizens policyholders.
Cost, other factors
Donelon is concerned the agents, who ultimately authorize the move away from Citizens, aren't making their customers aware of the chance. Otherwise, he says he doesn't understand why more people aren't moving.
He says those who switch to Safepoint would typically realize a savings of 40%, although it comes with a higher hurricane deductible. Even with that caveat, he can't believe Louisianans — who have seen their premiums soar amid the crisis — aren't jumping to leave Citizens, where average premiums went up by 63% last year. (Citizens is seeking a much more modest increase, an average of 3.8%, this year; if approved, it would go into effect in January.)
Jeff Albright, CEO of Independent Insurance Agents & Brokers of Louisiana as well as a member of Citizens' board, said he can see a number of reasons why agents might not be steering their clients to Safepoint.
"Price can't be the only consideration," he said. "Agents have to consider the coverage forms, limits and underwriting guidelines, and financial strength of a takeout carrier" such as Safepoint.
Iffy ratings
Many of the companies that have taken policies from Citizens over the years had iffy financial ratings. The four insurers that took over the largest number of Citizens policies over the previous decade all wound up failing.
Louisiana law says insurers must have a B+ rating from the credit rating agency A.M. Best Co. Inc. "or its equivalent" to be approved to take policies from Citizens. But many participants have lacked any rating from A.M. Best, and instead had an A rating from Demotech Inc., another ratings firm.
Safepoint is among them.
Disclosures to the U.S. Securities and Exchange Commission in 2022 showed that companies with an A rating from Demotech were almost four times more likely to fail than those with a B+ from A.M. Best.
Other potential hiccups
Albright also said that getting out of Citizens is sometimes a short-term proposition. The companies that offer to "take out" policies in bulk often wind up dropping some of their new customers after they get a closer look at the properties.
"If a policyholder is taken out of Citizens only to be non-renewed at the first inspection because they don't meet underwriting guidelines, that's bad for the policyholder, the agent and the Citizens team [that] has to reunderwrite that policy," Albright said.
He said that has happened frequently in the past couple of years.
"We understand the need to depopulate Citizens, but agents often have very legitimate reasons for denying a takeout," he said.
'No one else writing'
Donelon disagrees with the logic. At worst, someone who leaves Citizens will just wind up back there again a few months later, he acknowledged, but he said non-renewals are rare. At best, he said, the customer might save thousands of dollars.
"If you're already in Citizens, the worst thing that can happen is you have to go back to it," he said. "There's no one else writing out there."
But Al Pappalardo of the Pappalardo Agency, which writes for multiple companies, agreed with Albright that there are many reasons a homeowner might not rush to Safepoint. Apart from the likely change in hurricane deductible, he said there can be other changes in coverage; some new policies might not cover "wind-driven rain," for instance.?
And there can be penalties for people who opt out of Citizens and then opt back in.
"All of these things can wind up costing the insured more money," Pappalardo said. "It's up to the insured. And it takes awhile to discuss these changes and explain to the insured what's happening. It's getting in touch with everybody and explaining all the intricacies."
Donelon said he's confident in Safepoint's fundamentals, saying the company has more than $50 million in assets and that it "seamlessly and without controversy" absorbed 54,000 policies from three of the Louisiana insurers that failed.
"There's no solvency concern," he said.
Conflicts of interest?
Donelon also suggested some agents could be acting in their own financial interests rather than those of their clients. He said commissions are generally paid as a fixed percentage of premium cost, so when a customer saves 40%, the agent's commission drops by the same amount.
He also said he's found that "captive" agents — those who work for the largest firms, such as State Farm, Allstate and Farm Bureau, and write insurance only for them — are far less apt to move customers away from Citizens than independent agents, who write for multiple carriers.
Donelon said independent agents have been transferring about half their eligible customers to Safepoint in the most recent rounds of depopulation. Captive agents, he said, have been moving only about one in five customers.
More at stake
He said captive agents could have other business at stake in such decisions, since the big insurers often bundle various products for a discount. Moving a customer from Citizens to Safepoint could put an entire bundle at risk.
"The captive agents, I daresay, are concerned about losing the customer for other purposes, I guess," Donelon said.
Pappalardo, an independent agent, said it's possible that customers of the big insurers are choosing to stay put because they want to hang onto discounts they could lose by moving to Safepoint.
Tim Temple, the incoming insurance commissioner who will succeed Donelon in January, said in an interview Sunday that he could think of a number of reasons customers might not be rushing to ditch Citizens for Safepoint.
"This shows it's not always just about money, about the premium cost," Temple said. "Certainly, that's a huge concern for most everybody. But you have to take into account the policy terms. Is this company going to require me to have a higher named-storm deductible? Is it going to pay actual cash value, versus replacement cost? What are the underwriting guidelines?
"Your agent — that's their job, to take that into account and make sure you, the consumer, are protected. Not just to get you the policy with the lowest premium policy. The last time we were being pushed to buy a bunch of cheap insurance, 12 companies went insolvent."
Editor's note: This story was changed Sept. 17 to include comments from incoming Insurance Commissioner Tim Temple.?