Eating a fat hamburger and fries at the restaurant inside Nocko's Discount convenience store Thursday, St. James Parish carpenter Shervie Tabor contemplated using his flatboat if he needed to see his elderly mother over the then-coming weekend.
Largely roadless, forested swamp separates Tabor's south Vacherie home from all his family in the Lafourche Parish community of Chackbay a few miles south of Vacherie.
The typical land route — narrow, two-lane La. 20 — was closed for a second weekend in a row as contractors smoothed over the second of two shifting abutments for a temporary bridge built over Bayou Chevreuil while the permanent one is being replaced.
La. 20 is one of the few north-south connections to the cities closest to the coast through a band of swamp and farmland sweeping south of the Mississippi River region between Baton Rouge and New Orleans.
The isolated, rural highway is a hurricane evacuation route and an important economic connector to Thibodaux and Houma and for the people who work in the industries along the Mississippi.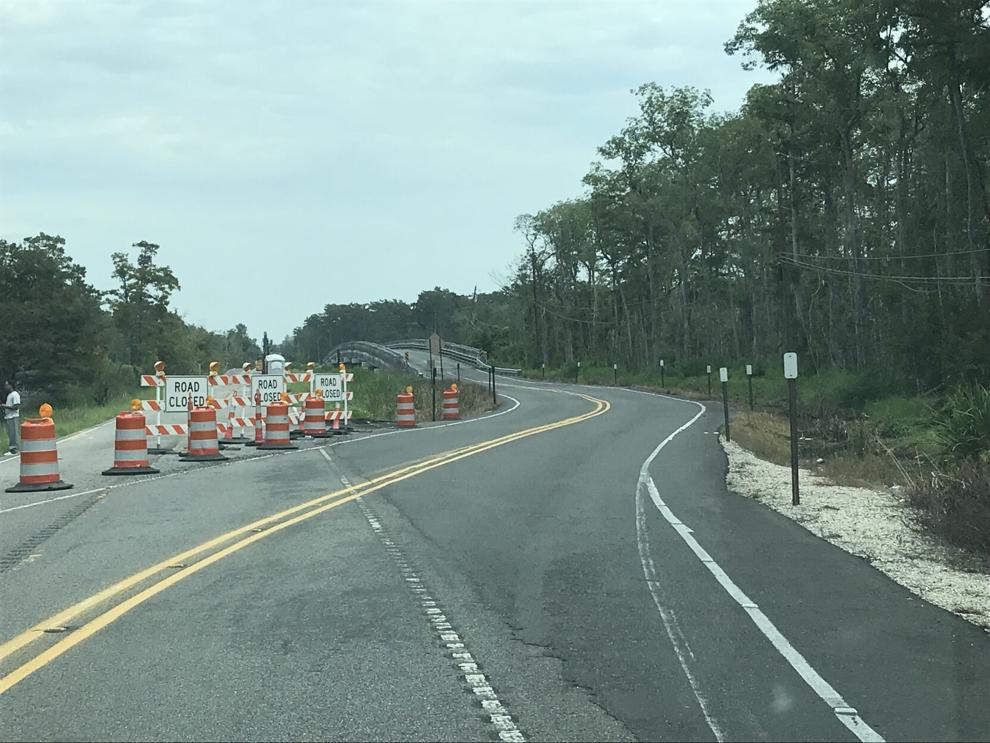 During the back-to-back weekend closures this month — the second was scheduled to end early Monday morning but reopened early, on late Sunday afternoon — the detours by land were extensive, either through Labadieville and Donaldsonville or through Boutte and Raceland. The Boutte route, which state highway officials recommended, took drivers through U.S. 90 and was nearly 60 miles long.
State highway officials delayed the start of the second closure on Friday until midnight, so St. James High Wildcats football players and their fans could get home via La. 20 after their match with the Thibodaux High Tigers, a game? St. James won Friday night in Thibodaux, 24-14.
For the 57-year-old Tabor, he said he rather take a boat for a few miles through the swamp and let someone in his family pick him up on the other end.
"'Cause I'm not going to make the whole round," Tabor said during lunch at the Chackbay store that sells gasoline, fishing tackle and live worms in addition to food from its kitchen. "A lot of people don't have the choice, you know what I'm saying, but I do."
The state Department of Transportation and Development is spending $11.6 million to replace the Bayou Chevreuil bridge.
For years, residents had complained the old bridge, which had a high crest that made it hard to see oncoming traffic, was unsafe and the scene of dangerous accidents.
The longer, wider replacement bridge is expected to set up a $19.8 million safety project to repave and widen the existing lanes and add shoulders for three miles of La. 20 between Chackbay and Vacherie.
Barber Bros. Contracting Co. won the bid for that project in mid-July, state bid records show.
That work is coming as St. James officials said the other major highway in the area, La. 3127, is poised for its own improvement project, with preliminary design underway and other preconstruction work finished or nearly so in part with local dollars.
But the state bridge replacement project, which was supposed to be done in the spring of 2022 before the La. 20 widening job started, has been beset by delays due in part to sharp increases in materials prices after the start of the COVID pandemic.
In March 2020, the former bridge contractor, TL Hawk, had under-bid three other competitors for the job by $2.25 million to $4.59 million, a DOTD bid tabulation shows.
Once work got underway in early 2021, the company fell behind on payments to subcontractors and ended up two years behind schedule.
DOTD found TL Hawk in default and removed the company from the job March 2. Since then, DOTD hired an emergency maintenance contractor, CEC, while the agency plans to seek bidders in December to finish the bridge replacement, agency officials said.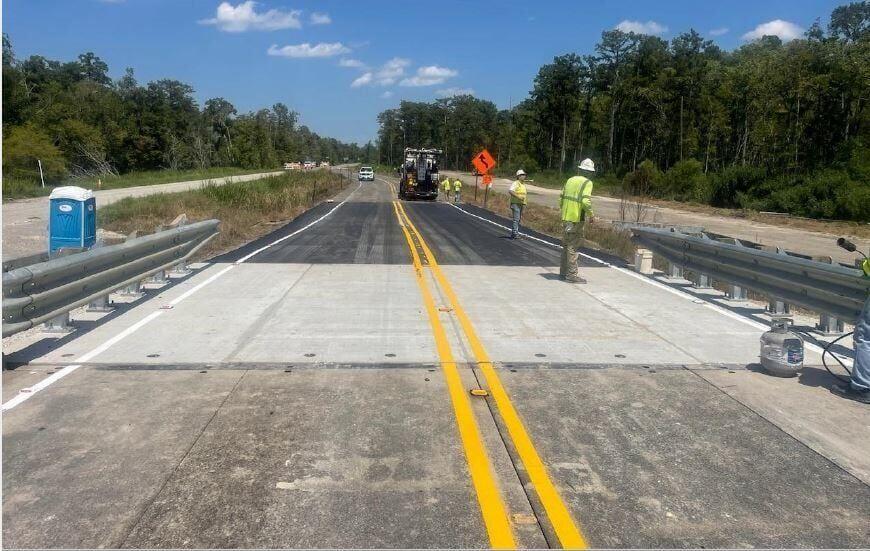 DOTD officials said the abutment repairs that forced the successive weekend closures represent a massive amount of work in a short time frame, replacing shifted abutment walls that caused large bumps.
Along with other work, the job consisted of removing the end abutment walls, removing approximately 2-feet-thick asphalt for a distance of 25 feet and installing a new precast cap, sleeper slab and precast approach slab panels, DOTD officials said.
"This is a massive amount of work to be completed in a 57-hour continuous weekend period," said Rodney Mallett, DOTD spokesman.
The first round earlier this month was finished on a Sunday, ahead of schedule, as CEC exceeded expectations, agency officials said.
State highway officials said they were trying to get the temporary bridge repairs done quickly to be ready for the heavy 18-wheelers that roll during sugar cane grinding season, which usually starts in late September.
But the earlier delays and now the bridge closures this month have been a source of frustration for workers and residents, like Tabor, who say there have been unfulfilled plans for years to add another, new route that might have mitigated the current predicament.
Some residents at Nocko's Discount and workers at the Wag-A-Pack convenience store to the north in south Vacherie complained about an extra hour of drive time during the closures and frustration over what they saw as a failure to anticipate the weak, swampy soils underneath the temporary bridge's abutments.
Misty Quiroz, 29, who works at Wag-A-Pack, lives in northern Vacherie. In normal times, she said, she frequently goes to Thibodaux, but during the closures, she has been hanging at home as she explained Thursday to a co-worker about the extent of the detour.
"It's an hour either way. You're going a whole loopty-loo round all the way around," she said.
Jeff Reulet, a Vacherie resident who was an early advocate for improving the La. 20 corridor, said he has been complaining to DOTD about the delays for months and giving pictures to the agency about what he sees as safety issues with the temporary bridge, including shifting bridge sections.
DOTD officials said the two weekends of repairs are expected to ensure the temporary bridge's safety for the remainder of the replacement job.
St. James Parish officials said they and other members of an La. 20 taskforce have been working actively to advocate for the bridge to be quickly finished.
"It's no secret that the contractor defaulting greatly hurt the Bayou Chevreuil Bridge project," Parish President Pete Dufresne said in a statement, "but I'm confident that this time around the project will be done correctly and completed."