It's a thing. All across North America, crowds of men and women are shimmying into wildly patterned caftans, securing curly reddish wigs to their scalps and slipping garish necklaces over their heads.
The goal of the hundreds, if not thousands, of campy customers is to evoke a relatively obscure Jimmy Carter-era TV character, Mrs. Roper, from the then-popular sitcom "Three's Company."
In case you don't remember "Three's Company," there were these two single women who, in order to make ends meet, needed a roommate. So, they invited a single guy to share their apartment.
But see, they were only able to get away with the seemingly sexy arrangement because they convinced the prudish owner of their apartment complex that the rooster in the hen house was harmlessly homosexual.
The apartment complex owner's canny wife, Helen Roper, played by the late Audra Lindley, wasn't fooled for long. But she played along with the roommates' ruse. Endless, amusing misunderstandings ensued.
Sure, it all seemed silly then and seems even sillier now, but the show toyed with LGBTQ+ identity and issues when that was pretty bold stuff. Looking back, the middle-aged, notoriously randy, gaudy, and nonjudgmental Mrs. Roper represented an unwavering acceptance of an alternative lifestyle.
Which showed a lot of moxie, even if the gay guy wasn't really gay.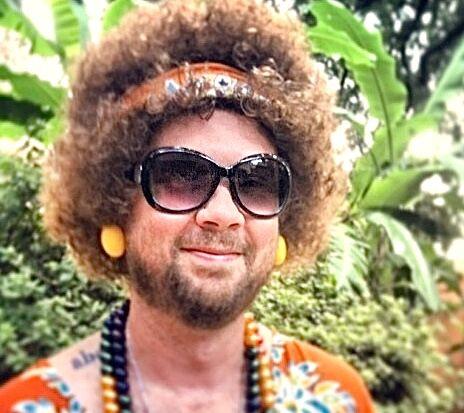 The New Orleans connection
New Orleans has given many wonderful gifts to the world, including jazz music, blackened redfish and, possibly, the Mrs. Ropers fad. If the Mrs. Ropers first popped up here, then Bud Moore is the Louis Armstrong/Paul Prudhomme of the coast-to-coast costuming craze.
It was 2013. The Oklahoma-born Moore was sitting in the Golden Lantern bar on Royal Street, contemplating a simple, DIY group costume design that he and a gaggle of pals could wear in the annual Southern Decadence Parade, a sweaty, late-summer, gay-oriented, promenade through the French Quarter.
Moore doesn't claim for a minute that he had some deep sociological reason for choosing the Mrs. Roper character. The inspiration, he admitted, was probably just "alcohol."
Plus, the fact that it was easy to round up loud, loose-fitting caftans and cheap matching wigs, which is pretty much all the costume you need. Oh, and any chunky, Age of Aquarius necklace you could put your hands on.
"It was honestly the most random choice," Moore said, based on a getup that was "comfortable, fashionable and you could make unique."
Moore, who is 51 now and works as a personal caregiver, said that everyone in his generation recognizes Mrs. Roper, even if she wasn't a main character. So "I knew my friends would go 'Oh my gosh, Mrs. Roper!'"
And that's it, that's the whole origin story of the Mrs. Roper phenomenon. Moore, and roughly 55 other cross-dressed Mrs. Ropers strutted through the streets, with a few female Mrs. Ropers mixed in, to the guffaws of the crowd.?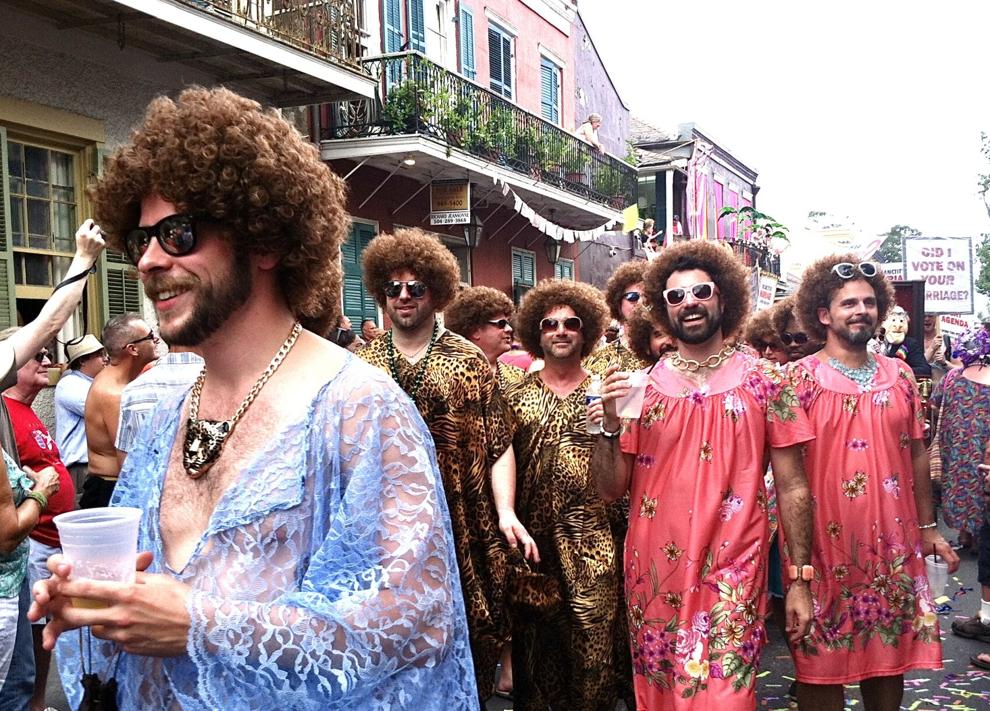 The next year, the group costumed as New Orleans-born television fitness guru Richard Simmons. They recycled the same wigs. It wasn't until eight years later in 2023 that Moore put out the word that he was reprising the Mrs. Ropers krewe.
On Sept. 2, 130 Mrs. Ropers sashayed in the Decadence parade, where, Moore recalled, anybody under the age of 40 was mystified.
"They had no idea who we were," he said.
A New York Times story that preceded the 2023 Decadence parade?anointed Mrs. Roper with cult status and reported on Moore's unintended role as a Mrs. Roper influencer.
The big change between 2013 and 2023, Moore said, was that this time out the group was mainly made up of women, with a smattering of males. Why did the orientation change? Moore doesn't know.
And he doesn't much care either. "I'm just thrilled that anyone would want to be in the thing," he said, of his ad hoc tribe of Mrs. Ropers.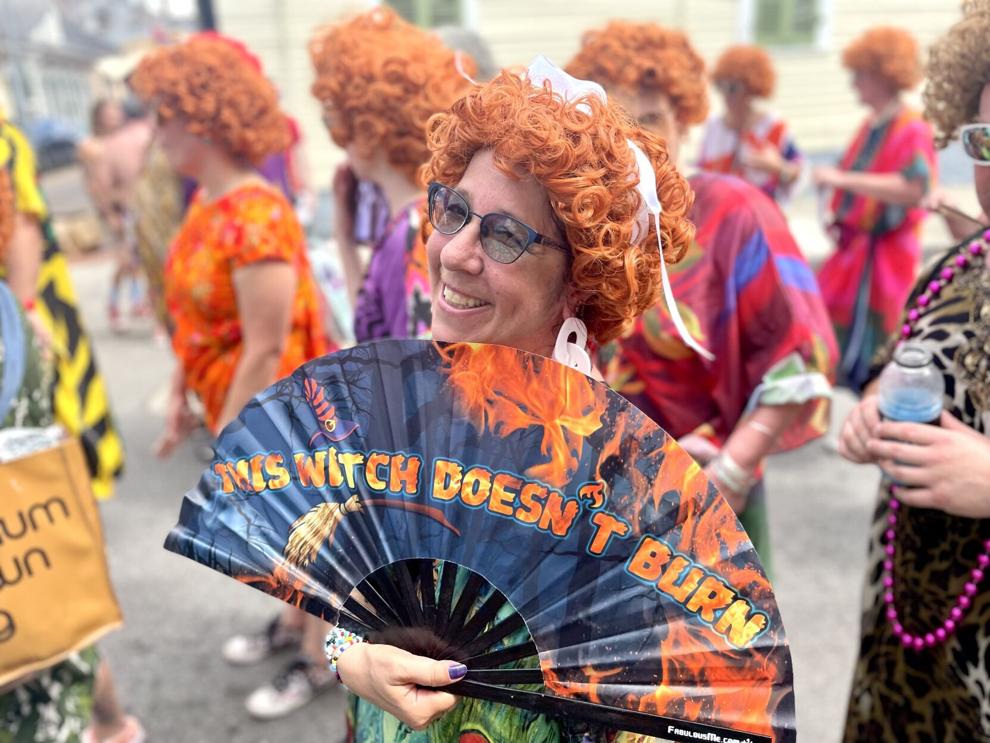 Striking a cultural chord
OMG, do people want to join that tribe. There are Mrs. Roper clusters in San Diego, Pittsburgh, Knoxville, Newport News, Chicago, Lafayette, Manhattan, Atlanta, Akron, Eugene, Staten Island, Put-In-Bay, and Ypsilanti.
Above the Canadian border, Mrs. Ropers can be found in Chilliwack, British Columbia, Twillingate, Newfoundland, and probably places in between.
Mrs. Ropers live everywhere, including that all-encompassing, digital apartment complex, the internet.
Atlanta attorney Sarah Steele manages the International Order of Mrs. Ropers Facebook page, which serves as a clearing house of all caftan-cloaked activities, the parties, parades, bar crawls, and bunco games.
She said she watched the "hip, cheesy, fantastic" "Three's Company" program as a kid and remembers Mrs. Roper as a "footloose" lady of leisure, whose attitude was entirely welcoming.
Steele describes the "Three's Company" living arrangement as a "family of choice." For the gay community, she said, Helen Roper represented someone who was way out in front of being queer-friendly.
Steele said she first encountered the Mrs. Roper costume when she attended a satirical game show in Atlanta that pitted a team of Mrs. Ropers against the Rubber Men team.
But here's the thing. Steele said that the game show pastiche took place in 2012. Which means that our man in NOLA, Bud Moore, may not have been the first to conceive the Mrs. Roper costume.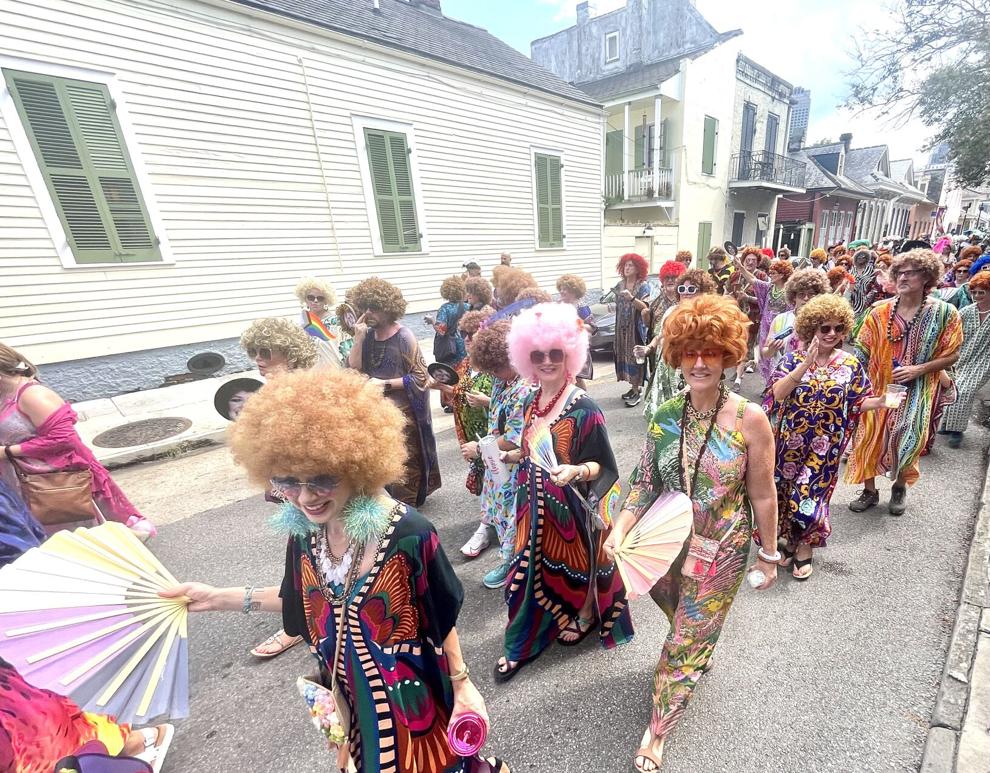 The theory of parallel evolution, Mrs. Roper's style
Gary Elgin, a Mrs. Ropers enthusiast, said that based on his deep dive into the Order of Mrs. Ropers Facebook page and communication with members, he's learned that in late April 2012, a large group of people appeared as Mrs. Ropers in the Atlanta Inman Park Street Festival. The fad may go back even further, he said, to a '70s-theme birthday party in Palm Springs in 2010.
"I wormed my way into the origin," Elgin said. "I think it's just fascinating to think how far back it really goes."
But Elgin does not believe the earlier Roper activities disqualify Moore as an originator. It's possible for the same idea to pop up independently in more than one place.
"All those things can be true," he said. Bud, and those people in 2010 and 2012, could have been drawn to Mrs. Roper for the same reasons.
"She was an ally," he said.
Elgin, who produced the Pride parade in Knoxville, Tennessee, for three years, is helping organize Knoxville's first Mrs. Roper event, a Caftan Crawl, on Sept. 23, the eve of actress Audra Lindley's birthday.
Whether the first Mrs. Roper costume event took place in 2010 or 2012 or 2013, it seems to have simmered for several years before coming to a full boil over the past 12 months. But why?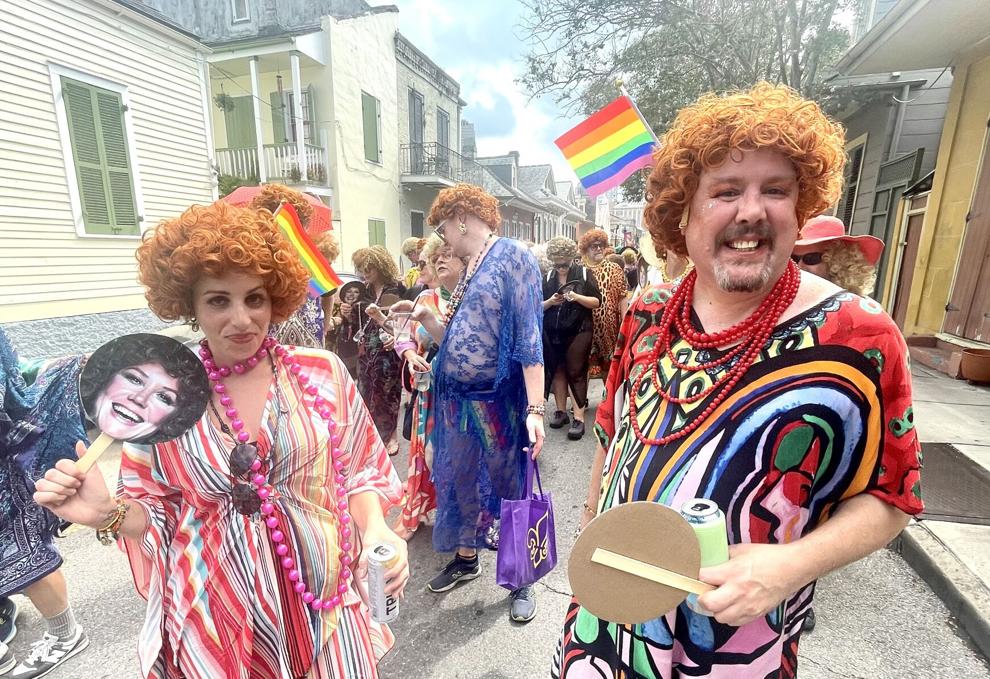 Nostalgia and pushback
Maybe it's because the generation of kids who marveled at the risqué, middle-aged Mrs. Roper on TV are now middle-aged themselves.
Actress/substitute teacher Shauna Earp-Ballinger, of Denver, calls herself a "caftanaholic."
"I've tried ointments, 12-step programs, but it's hopeless," she said laughing. This year she and some fellow caftan fanatics are planning to go full Mrs. Roper.
"I said, 'I've got to get in this, on this, and around this,'" Earp-Ballinger said.
The Denver group is planning a Roller Roper Romp at a regional skate rink.
The reason for the attraction to the character, Earp-Ballinger said, "is obviously nostalgia."
"The majority of us are 40-plus." These days, she said, "we're allowing ourselves to be stupid and have fun."
Mrs. Roper existed in the era of "jigglevision" she said, when TV women might have been portrayed as eye candy, but Mrs. Roper was "a b___sy broad, who owned her own sexuality."
Steele said the joy of emerging from the COVID quarantine era may have ignited the explosion of current Mrs. Roper activities. Or maybe Helen Roper's time has just come.
"As much progress as we, as women, have made," she said, "we're still repressed."
"Mrs. Roper was a pushback," she said.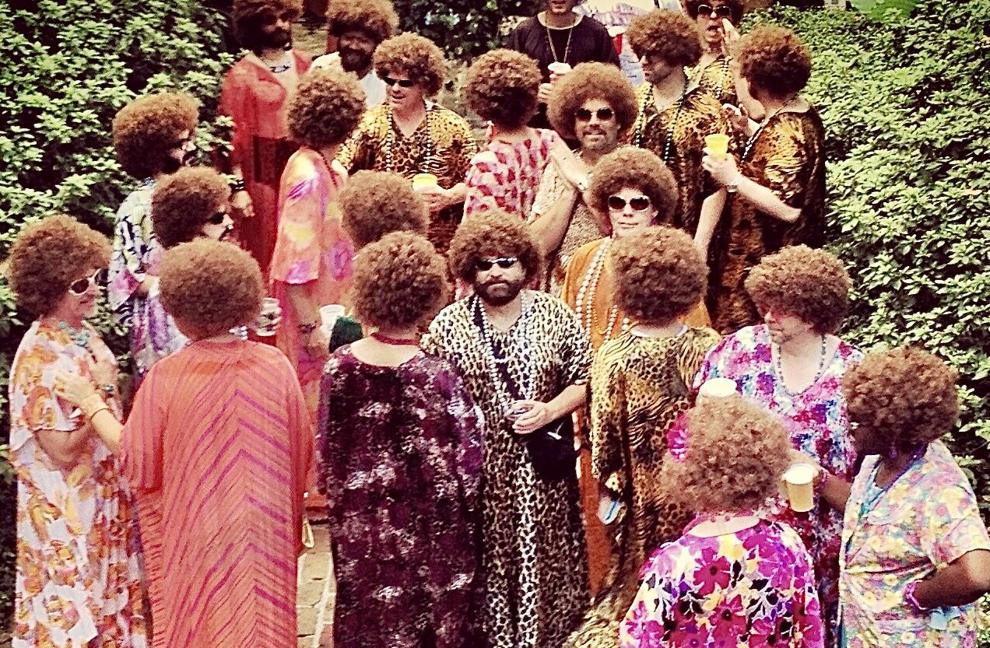 It was a normal Saturday afternoon in New Orleans. Dr. Brobson Lutz said he was motoring down Esplanade Avenue at about 5:30 p.m., on the way …
Keeping up with Neuty, Louisiana's most famous swamp rat, can be a fulltime job. The watery rescue rodent, who was once famously threatened wi…
Faster than Michael Thomas. More powerful than Taysom Hill. Able to leap Benson Tower in a single bound. Look! Up in Section 124! It's the Sai…