When Richard Inglés was a kid in the 1970s, he played a game called cabbage ball during P.E. at St. Catherine of Siena grammar school in Metairie, and in a CYO league on a team sponsored by Giorlando's Restaurant.
We're glad we know Richard,?because he helped us answer a question from a reader who asked Curious Louisiana to explain cabbage ball. What is it? What is its special connection with New Orleans?
Well, here we go.
You play cabbage ball pretty much like baseball, with a pitcher, catcher, batters and fielders. Whoever invented the game probably called it cabbage ball because the ball is about as big as a head of cabbage. When the balls are brand new, they're reasonably hard, also like a cabbage. But after they've been batted a few times, they soften up, like a boiled cabbage.
Since the cabbage ball is fat and forgivingly squishy, you don't need a glove. You just catch it with your hands. Or try to. For decades, the game was a schoolyard staple in the region, with boys, girls and mixed teams. It's still being played, but maybe not as much as in the late 20th century.
A 2012 WWL-TV spot about cabbage ball by the late Frank "Naturally N'Awlins" Davis had a nostalgic tone, lamenting that the popularity of the game may have faded, starting in the 1990s.
Pavement instead of grass
Inglés, now a 52-year-old computer technician, said he believes the game was probably popular because "the overhead was so low." You didn't need as much equipment or as much room to play as baseball or softball.
It was fun, Inglés recalled, but there were challenges.
"I didn't grow until I was about 18 years old," he said, laughing. "I was always short, skinny and I had small hands. And those balls are big. They're big unruly balls. And they're not round. I can't remember if when you bought them they were round, but after one game they were misshapen. I couldn't catch the darn thing. And I couldn't hit it, because I had, like, toothpick arms. So I'd always hit a grounder and get thrown out."
There was another problem too. Cabbage ball games were often conducted on the paved playground, which was always hungry for knees and elbows to abrade.
"I did not like cement," Inglés said, as he relived regrettable incidents from the distant past.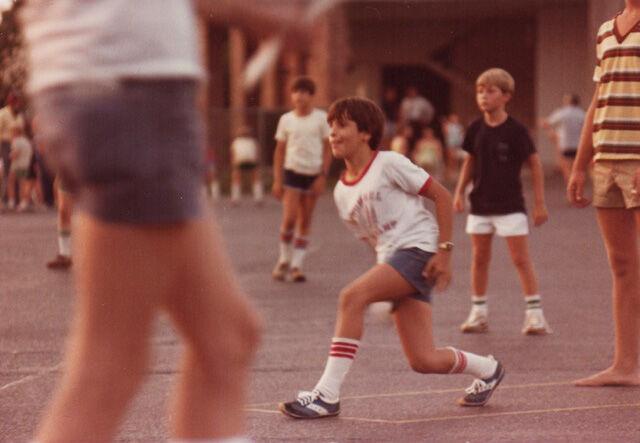 Not just for kids anymore
Despite the demands and dangers of the game, Inglés played the sport into adulthood. As a cabbage ball pitcher, he said, he learned to toss a high-arching, killer "moon ball."
Adult cabbage ball is still popular. John Stogner is the co-owner of?the STB sports league?in St. Bernard.?Down in the parish, he said, adult cabbage ball is big. Right now, there are about 24 teams in the league.
Stogner said cabbage ball appeals to beginners because they really don't need experience to get started. Cabbage ball is often coed, he said, with spouses playing on the same team. It's a reason for people "to get together on a Friday night, have a drink, hang out, and play with family and friends."
In a reversal of the usual pattern, it's the kids who watch their parents play, Stogner said.
WWL talk show host Tommy Tucker has fond memories of playing the game as a kid.
"They still tell the story of my legendary home run for St. Julian Eymard against Holy Name of Mary in Algiers," Tucker tweeted in response to a call for cabbage ball memories. "There's been talk of a movie. lol."
they still tell the story of my legendary home run for St. Julian Eymard against Holy Name of Mary in Algiers. over the fence in the parking lot. there's been talk of a movie. lol.

— Tommy Tucker (@ttuckerwwl) August 10, 2023
A sports rarity
Ray Maggio, a limo company owner who grew up in New Orleans East, said he's always loved cabbage ball. In 1999, when Maggio moved to Houston, he was surprised to discover that nobody knew about the game.
"Outside of New Orleans, it's unheard of," he said.
Like Johnny Appleseed, Maggio tried to plant the sport in Texas. He set up a website, cabbageball.com, to help teams get started, and he sold something like 1,000 New Orleans-style, 17-inch balls. But eventually he gave up the cause, because, he said, the cost of the balls kept rising and rising.
On his website, Maggio states that "Cabbage Ball was started in New Orleans, Louisiana." He thinks it dates back to at least the 1940s or 1950s.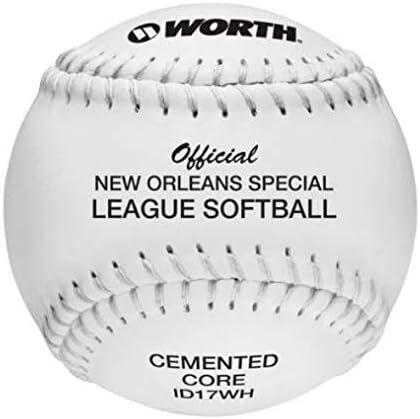 Bigger in the Big Easy
Wikipedia says there are a handful of other fat-ball hot spots across the country, including Atlanta, Nashville, Portland, Bay City Michigan, and Chicago. The online encyclopedia declares that the game originated in Chicago in 1887. But it doesn't explain how it might have traveled to other places like New Orleans.
Maybe a baseball-style game, played with a larger, softer ball, sprang up in more than one place independently. Like the sandlot version of Darwin's parallel evolution.
Maggio pointed out that in Chicago the game is similar, but they play it with a 16-inch ball called a "clincher." Who knows why the New Orleans balls are a little bit bigger?
The Worth baseball equipment company (part of Rawlings) makes a 17-inch ball that they call the "Official New Orleans Special League Softball." We've attempted to contact a company representative to find out what they may know about the distinctions and development of New Orleans-style cabbage ball. We didn't hear back.
If anyone knows more about the history of the sport in New Orleans, we're eager to learn.